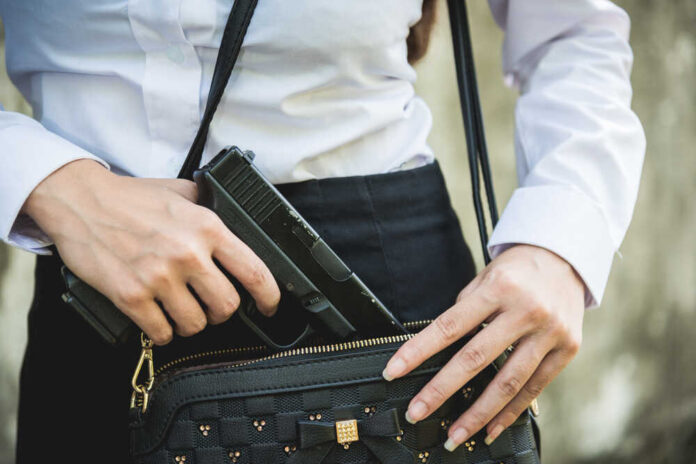 It only took a few days for the sheriff of the county that includes the largest city in New Mexico to announce he wouldn't enforce a new gun ban issued by the state's governor.
Last Friday, Democratic Governor Michelle Lujan Grisham issued a 30-day public health order that temporarily suspends people's rights to carry a firearm in almost all public places near Albuquerque. In issuing the emergency order, she said that she would welcome a fight.
And that's exactly what she's going to get.
On Monday, Sheriff John Allen of Bernalillo County, which includes Albuquerque, held a news conference where he announced that he would not be enforcing the ban. In doing so, he joined with the top prosecutor in the county, the police chief of the city as well as the city's mayor.
At the news conference, Allen said of the governor's emergency order:
"It's unconstitutional. So, there's no way we can enforce that order. This ban does nothing to curb gun violence."
Within 24 hours of the order being issued, a gun rights group sued the governor in federal court, asking that the order be blocked from going into effect. Other lawsuits have followed that one over the last few days.
People who are against the order – which include not just Republicans but even members of Lujan Grisham's own party – say that it infringes on the rights of citizens who are abiding by the law.
Republican state lawmakers have also proposed starting impeachment proceedings against Lujan Grisham. In order for that to move forward, though, they would need significant support from Democrats, as liberals control New Mexico's Legislature.
State Representative John Block, whose constituents in the southern part of the state lean heavily conservative, said of the order:
"My constituents have reached out to me in droves, emailing and texting me that this is insane, this is horrifying, this is unconstitutional."
Again, though, it's not just Republicans who are aghast at Lujan Grisham's order. One of her biggest allies in the Legislature, state Senator Joseph Cervantes, has urged the governor in the last few days to rescind the order she issued.
The Democratic state lawmaker tweeted recently:
"An unconstitutional approach undermines the important collaboration gun issues deserve, and the important role of a Governor to lead genuine reforms."
The amazing part is that statement is coming from a lawmaker who, in 2020, sponsored a red flag law that made it easier for authorities to remove weapons from any person who was deemed to be dangerous to either others or themselves.
Security guards who are licensed and police are exempt from the order. It applies to all open and concealed carry weapons for most public places. Since it's tied to a violent crime rate threshold, only metropolitan Albuquerque currently is subject to it.
According to Caroline Sweeney, a spokeswoman for the governor's office, people who violate the order could face potential civil penalties as well as a fine of as much as $5,000.